Google Workspace is way more than just Gmail for Business, and nothing speaks more to this than the multiple collaboration tools that are available. Google Workspace makes life easier for users, reduces the number of silos, and lets them get work done in a more productive and collaborative fashion, all within one connected platform. In this blog post, we'll summarize some of the core collaboration tools that come with all Google Workspace Plans, that can help you and your team, – create, collaborate, and connect from anywhere and on any device.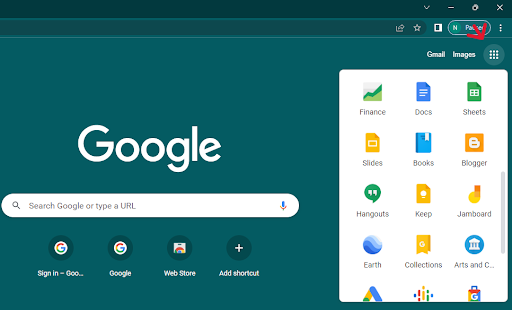 To view all the collaboration tools such as Docs, Sheets, Slides, Forms, etc., go to Google and click on the Google apps icon at the top-right side of the screen.
Google Docs serves as a collaboration tool for the cooperative editing of documents in real-time. Documents can be shared, opened, and edited by multiple users simultaneously, and users can see character-by-character changes as other collaborators make edits. Changes are automatically saved to Google's servers, and a revision history is automatically kept so past edits may be viewed and reverted to.
You may use Docs to type up letters, formal work documents such as proposals, pay slips and reports, resumes, and even make brochures.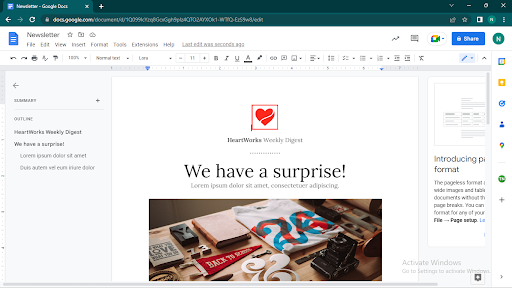 Google Sheets
Google Sheets is a free, web-based spreadsheet application that is provided by Google within the Google Workspace suite. 
It includes almost all of the same spreadsheet functions as MS Excel—if you know how to use Excel, you'll feel at home in Google Sheets.
It has a clean interface, it's easy to collaborate with people and it integrates with other Google products for everyday use (like Google Analytics and Google Data Studio now Looker Studio).
Anyone who loves dealing with both simple and complex data will love using Sheets as a collaborative data tool. It is quite helpful when it comes to collecting all your data in one place, collating it, making summaries and calculations using formulas, and creating insightful visualizations using charts and graphs.
Here are some common Google Sheets terms:
Cell

: A single data point.

Column

: A vertical range of cells that runs down from the top of the sheet.

Row

: A horizontal range of cells that run across from the left side of the sheet.

Range

: A selection of multiple cells that runs across a column, row, or a combination of both.

Function

: A built-in feature in Google Sheets that is used to calculate values and manipulate data.

Formula

: A combination of functions, columns, rows, cells, and ranges that are used to obtain a specific end result.

Worksheet

: Sets of columns and rows that make up a spreadsheet.
Spreadsheet: Entire document that contains Google sheets. One spreadsheet can have more than one worksheet.
Google Slides
"An online presentation editor" would be a good way to pick up the Google Slides concept.
A presentation graphics application from Google that is part of its Google Docs suite. Google Slides is similar to Microsoft's venerable PowerPoint program, and presentations are created from within the browser.
A Google Slides presentation has the same purpose as a PowerPoint presentation: to serve as visual support in an oral presentation. However, Google Slides offers different advantages such as being able to have your presentation in the Google cloud and have access to it from anywhere and from any device, that several users can modify the same presentation at the same time or that all changes are automatically saved thanks to the auto-save feature.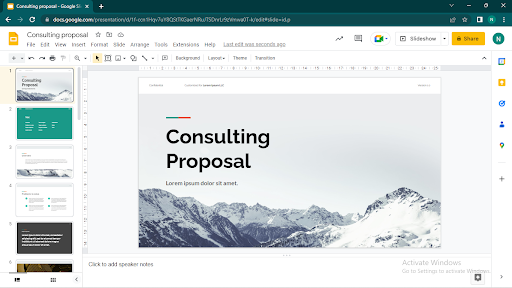 Google Meet
Google Meet is Google's popular video conferencing solution that can be used for virtual events and meetings as well as team collaboration.
Years of global disruption have accelerated a shift in how organizations get work done and how people in vast geographical locations, can stay connected in real-time.
Any video conferencing platform worth its salt, should let you start a meeting instantly, set up one for later or schedule one in your calendar and provide you with a link to invite others to join in. This is exactly what Google Meet can do for you.
You can launch a Google Meet by:
Going to

Google Meet

and starting it instantly or scheduling it.

From within Gmail using the left navigation panel.

Or schedule to meet with someone by checking their availability on Google Calendar.
Google Meet offers a wide range of in-demand video conferencing tools, including screen and app sharing, meeting recordings, meeting transcripts, chat, participant spotlight and virtual backgrounds.
Some cool features of Google Meet include:
Breakout rooms: Split into smaller group discussions during a meeting.

Live stream webinars. Let people watch without joining.

Conduct in-meeting polls.

Set up Q&A sessions.

Save a transcription of the meeting.

Record meetings for on-demand viewing.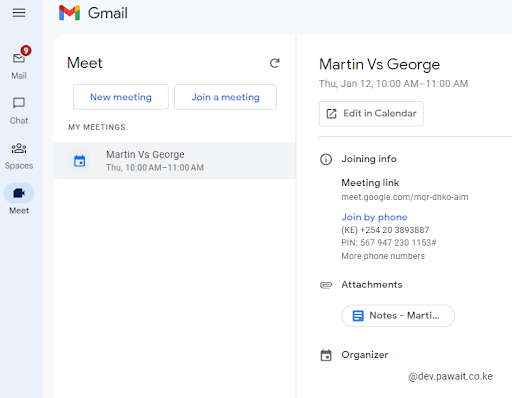 It has built-in tools for live closed captions. Google Meet offers intelligent noise cancellation on all its paid plans as well. Paid Google Meet users receive 30 GB to unlimited cloud storage on Google Drive. With Google Meet, even free users get 15 GB of storage.
Google Forms
Google Forms is a free online software that you can use to create online surveys and quizzes and send them to other people. It's a versatile tool that can be used for various applications, from gathering RSVPs for an event to creating a pop quiz. 
You'll need a Google account to create a Google Form, but you can adjust the settings so that anyone can fill it out, meaning no Google account is required.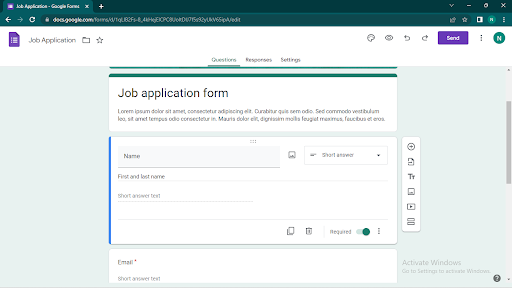 This platform is the first-hand retriever of information which can then be stored in a Google Spreadsheet. Forms is an easy and accessible alternative to survey-based software like Surveymonkey, Airtable, and GravityForms. Google Forms also has a user-friendly interface that allows users to be creative with their outputs. It allows the addition of images, URLs, files, and other audio-visual content.
One very useful feature of the Google Form is the ease of generating responses or answers, Google Form Responses is in charge of that. This feature makes it easier for users to see the gathered, tabulated, graphed, and charted answers and hassle-free retrieving of responses. With this, it is much easier to generate conclusions, check the right answers, and analyze data.
Google Sites
Google Sites is Google's website builder. 
It is a Google application you might not hear much about. But if you want to create an intranet for employees, a website for your family, or a central spot for a project team, Google Sites might be ideal.
Comparable to website builders like Wix and Weebly, almost anyone can create a website with Google Sites. You don't need coding knowledge, design talent, or an IT staff. In just a few minutes, you can have a website with multiple pages up and running.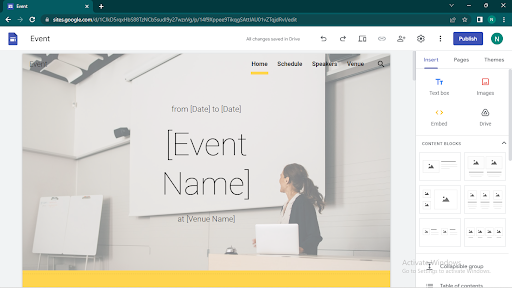 Google Calendar
There is no better tool out there for organizing your personal or work week, month, and/or year, than Google Calendar.
Not only can you fit events, meetings, or reminders into your schedule, but other people can also see how they could fit into your schedule and vice versa. With Google Calendar, you can quickly schedule meetings and events and get reminders about upcoming activities, so you always know what's next. 
Calendar is designed for teams, so it's easy to share your schedule with others and create multiple calendars that you and your team can use together. Here are some of the cool things you can do with Google Calendar:
Create new calendars for different parts of your life or work.

Schedule and launch meetings via Google Meet straight from Calendar.

Find various times to meet or get Suggested times.

View other people's calendars and their availability.

Set your working hours and location.

Hide your event details.

Create team calendars.

Add specific meeting locations and rooms and attach meeting documents..

Get calendar desktop notifications.

Setup appointment slots or an appointment scheduler with a booking page.
Google Keep
Think of Google Keep as your digital notepad. Thinking of going fully paperless? 
With Keep, you can easily and quickly capture what's on your mind and get a reminder later on. Too tired to type it in? Record a voice memo and Keep will transcribe it for you.
By logging in to your Google Account, you can access them anytime using any device.
Ways Keep can be useful:
Creating a checklist

Creating a reminder

Creating a note

Adding collaborators to your notes

Labelling your notes

Adding background colors to your notes for easy identification

Adding images and drawings to notes

Coping your notes to a Google Doc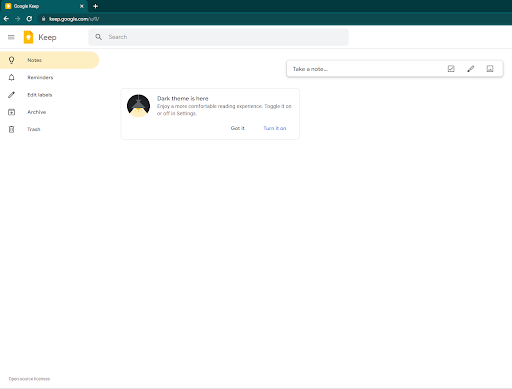 Google Chat is an instant messenger within Gmail.
Chat as a collaboration tool can be used right in Gmail or as a standalone app to help you keep track of all your work communications and choose the right channel for every communication.
From direct messages to group conversations, Google Chat and Spaces can be a central place for teams and individuals to engage in topic-based discussions, share knowledge and ideas, move projects forward and build communities and team culture.
Google Chats especially comes in handy, for internal company conversations. No need for back-and-forth email exchanges. Send over instant messages to your colleagues or classmates with formatted text options, emojis, GIFs, and file attachments.
You can attach files from Google Drive, send over a calendar invite and even launch a Google Meet right from Chats.
By turning History on/off, you can control whether Chats should delete messages after every 24hrs.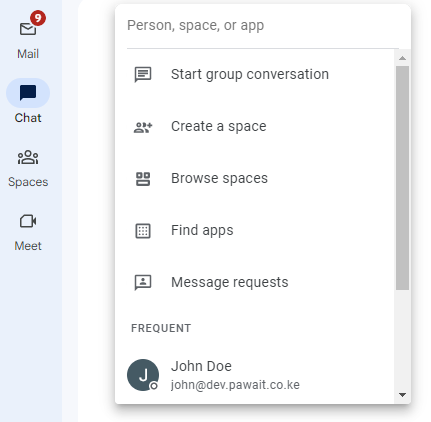 Google Jamboard
Google Jamboard is a digital whiteboard that allows for remote or in-person collaboration in a shared space. Students or colleagues can sketch out ideas, problem-solve, or draw collaboratively and synchronously. "Jams" can be saved directly to Google Drive or exported as PDFs.
You can share a jam session with collaborators whether they are on a Jamboard device, mobile app, or web browser.
People in up to 50 user sessions can work on a jam at once. When using a web browser, each Jamboard browser tab counts as a session.
Using Jamboard on a computer, you can use a web browser to:
Write and draw using a mouse or trackpad.

Search Google and insert images or webpages.

Drag and resize text and images.

Present your jam to a Google Meet video call.

Open your jam on a Jamboard device.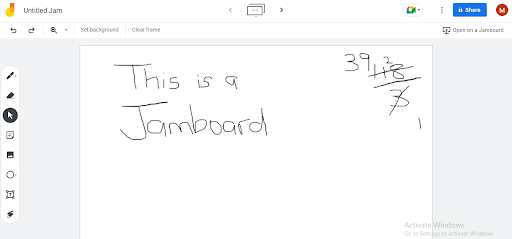 Google Apps Script
Apps Script is a low-code platform that makes it quick and easy to build business solutions that integrate, automate, and extend Google Workspace. 
It means you write small programs with Apps Script to extend the standard features of Google Workspace Apps. It's great for filling in the gaps in your workflows.
With Apps Script, you can do cool stuff like automating repeatable tasks, creating documents, emailing people automatically and connecting your Google Sheets to other services you use. One great use case, would be to write a script that creates a mail merge using Gmail and Sheets, enabling you to send a singular email template to multiple recipients but customized for each.
Apps Script lets you build with HTML, CSS and JavaScript—no need to learn a new proprietary framework.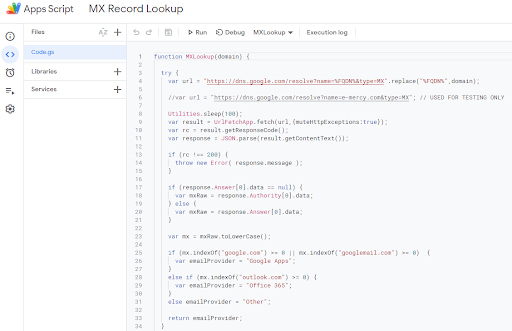 Conclusion
With all the collaboration tools we've gone over, Google Workspace, beyond any shadow of a doubt, eliminates any silos that you may have within your organization.
Any type of work would surely seem a bit more fun.