You love to think of yourself as a creative. Hell, that's probably why you got into marketing in the first place. Or you aren't quite skilled in marketing, but are currently handling your organization's marketing and communications, nonetheless.
However, Don Draper would surely frown at your bland emails that aren't quite getting the engagement you hoped they would.
Don't fret. With Google Workspace's July 2022 update, you can now send professional-looking emails within Gmail, to the masses. Add some custom styles and designs to your email marketing and grab the attention of your targeted audience in the quickest way possible with engaging layout designs. No need to use third-party mass email marketing applications and extensions anymore.
With the newly-integrated email marketing tools, custom layouts & mass mailing in Gmail, you can quickly and easily, send out announcements, newsletters, and other mass-email scenarios.
These features will be available to:
Business Standard & Business Plus

Enterprise Starter, Enterprise Standard, Enterprise Plus

Education Standard & Education Plus

Nonprofits

Workspace Individual plans.
Let's take a look at both of these new features.
Custom & Branded Layouts.
To send out more professional-looking emails internally or externally, you can use Google Workspace to:
Create branded emails.

Use customizable layouts.
NB: This feature is ON by default and at the domain level. You can turn layouts on or off for specific domains, organizational units (OUs), or groups. If your organization has disabled Google Drive, Gmail layouts are turned off automatically.
Here's how to apply them:
Sign in to your

Gmail account

.

Click on

Compose

to start up a new email.

At the bottom of the

New Message

window, click on the

Choose layout

icon.

(set window to Fullscreen mode or slide right to access the icon)
A new window will appear from which you can select a layout of your choice.
You can select from the predefined set of email templates, which feature images, text elements, and buttons. You can click Default styling to further customize these templates with your own:
Company logo for the header, colour palette and primary font.

Footer details e.g. business name & address.

Contact, website & social media links.
All these details will apply across all layouts and can be changed at any desirable time.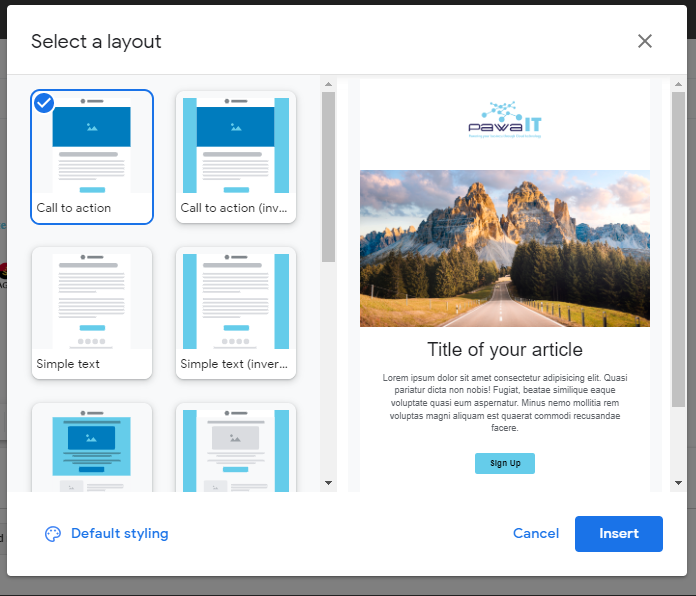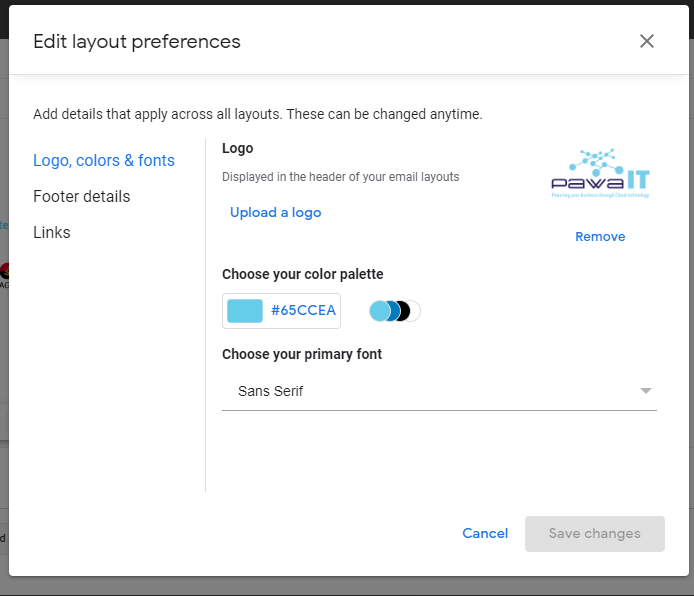 Click

Save Changes

then

Insert

and the new layout will appear in the email body

.

Proceed to edit the contents with your own custom messaging. You can also delete any unrequired sections, buttons or footers.

Insert the Subject and Recipients of your email and you're good to go!
Tip: In the event, you will need to re-use this layout, click the More Options

,  icon then Templates and save the draft as a template you could customize and re-use later on.
You can use multi-send mode in Gmail to:
Send out an email marketing campaign.

Send newsletters and announcements to your existing customers.
Here's how to use multi-send mode:
Sign in to your

Gmail account

.

Click on

Compose

to start up a new email.

From the toolbar at the bottom of the

New Message

window, click on

Toggle multi-send mode

.

When the multi-send mode is on, the
New Message
window will turn
purple
and the
Send
button will change to
Continue
.
A multi-send mode banner and an unsubscribe link will be added to the bottom of the email as well. Click on the multi-send icon to turn the mode off (or the Turn off button in the banner). The window colour and Send button will revert to normal.
You can add up to 1500 recipients in the 'To' field and a maximum of 1 recipient in the 'CC' and/or 'BCC' fields. Recipients added in CC or BCC will be included in each email that is sent out.
To add recipients to your email:
Type in or paste, single or multiple email addresses to the 'To' field.
Send your email:
When your email draft is complete, click

Continue

.

You'll get a warning notification if you have too many recipients in the Cc or Bcc fields.

You'll get a warning notification Missing Unsubscribe Link if you've removed the unsubscribe link. To add the unsubscribe link back into your email, click Add link.

A confirmation box appears where you will find the total number of unsubscribed recipients and if anyone has unsubscribed.

(Optional): Click Send preview to send yourself a test email.

To send your email, click Send all.
Your multi-send emails will appear in your Sent folder with a distinguishable banner.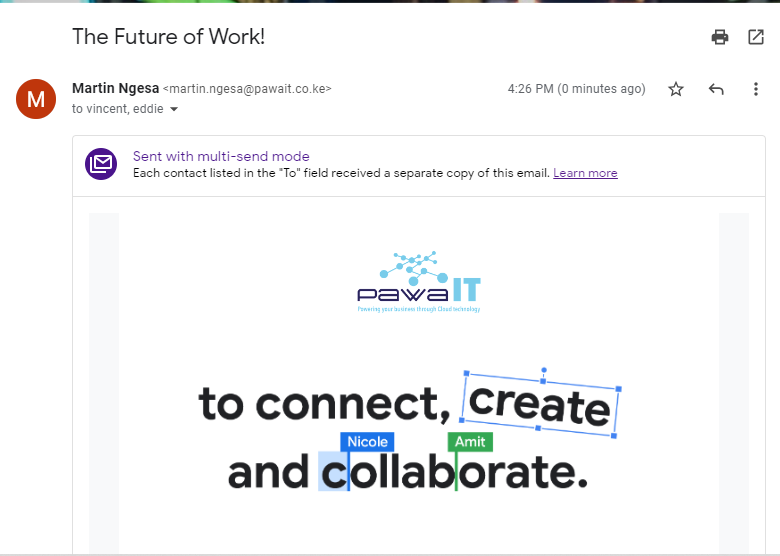 NB:
For Google Workspace Enterprise Starter and above, as well as Google Workspace for Education customers, this feature is restricted to internal recipients by default.

For Google Workspace Business customers multi-send is available by default for external recipients.

For all Google Workspace editions, you can turn multi-send ON for external recipients at the OU or Group level
Read more: