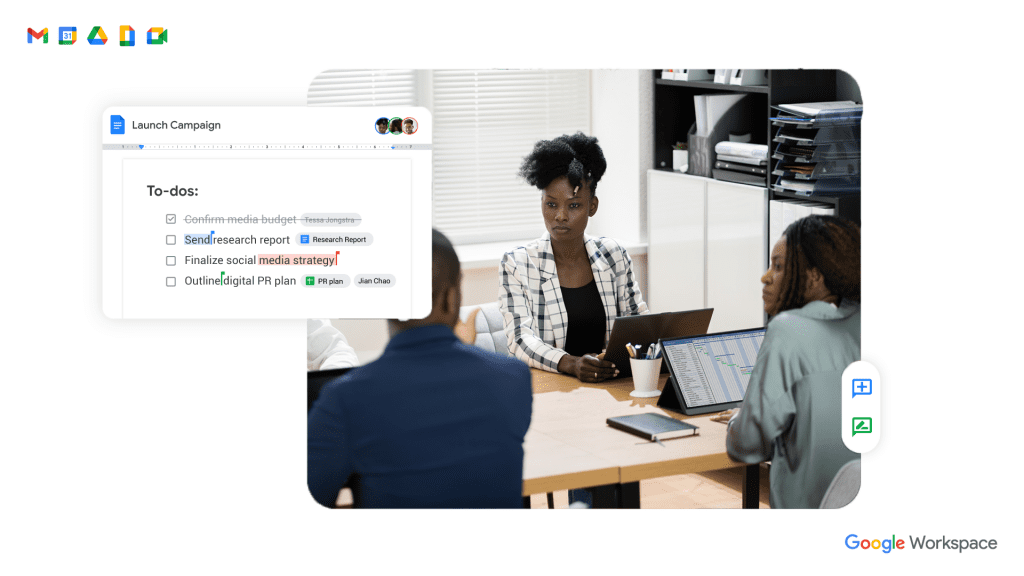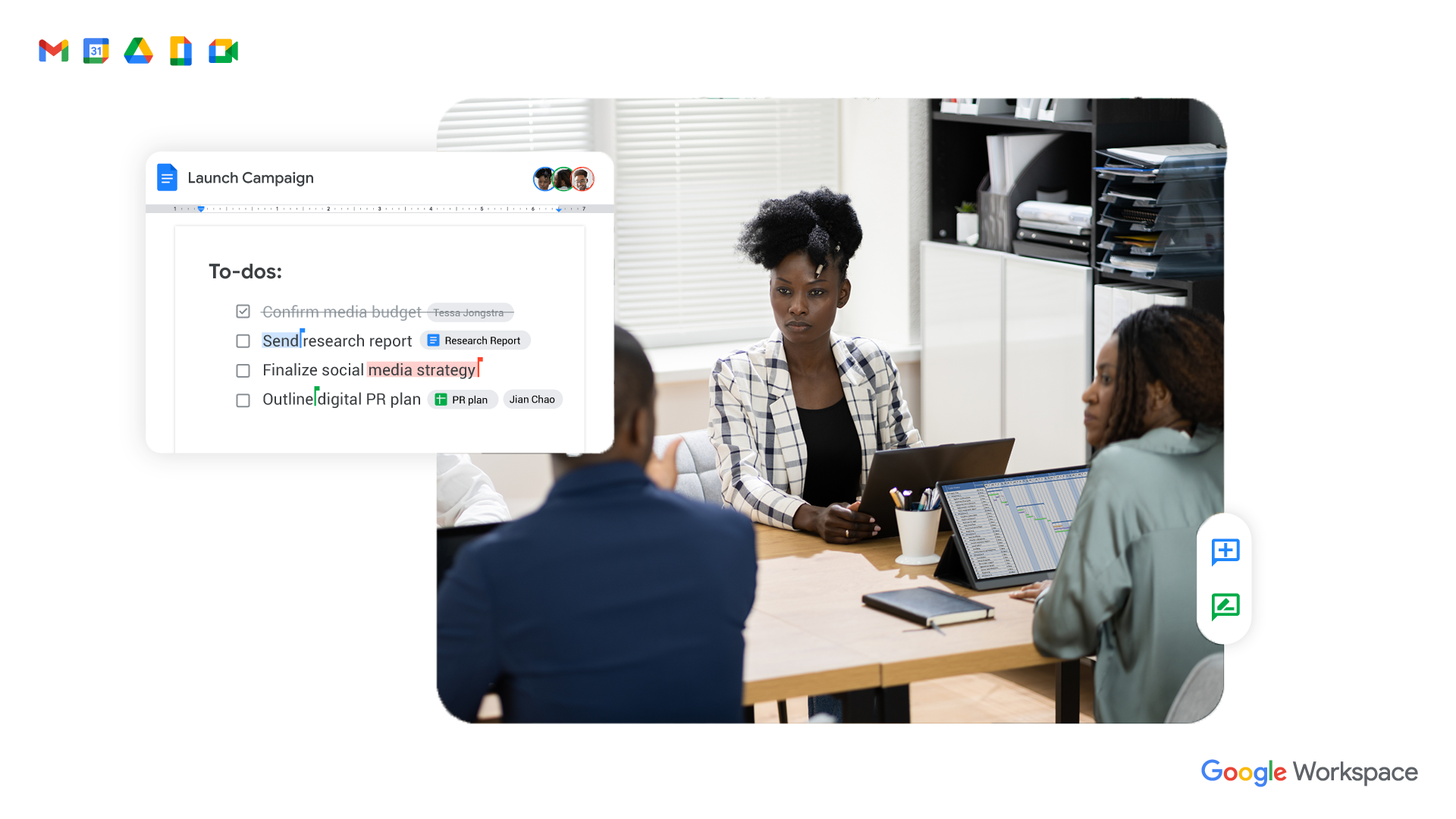 If you've been searching for a comprehensive Google Docs editor Guide, your search has just ended. 
In this blog post, we'll provide everything you need to know about the application, from creating new documents to collaborating with others to locking a specific document. We'll also cover some of the additional features that make Google Docs a powerful tool for working online.
Google Docs editor is Google's browser-based word processor. You can create, edit, and share documents online and access them from any computer with an internet connection. There's even a mobile app for Android and iOS.
Google Docs editor is accessible on all platforms and devices. All you need is an internet connection, a web browser, or, in the mobile case, the relevant apps. Google handles all the heavy lifting and does the rest while running the software in the cloud.
Google Docs editor allows you to share and collaborate on the same document with multiple people, track revisions, and changes and make suggestions in real-time.
1. How to Login to Google Docs
You can access Google Docs editor with a personal Google account or a Google Workspace account. (for business use)
Go to

Google Docs

Sign in using your Google Account credentials.

You're in!
You can use Google Docs just like you would use Microsoft Word. Create new documents, use Google Docs templates, share documents with your team and collaborate in real time. 
Below are the basics and some of its cool features.
2. How to Create a Google Doc
Once you're on the Google Docs start page, you can start a new document by creating a blank new document or choosing one from a list of pre-designed templates for letters, resumes, brochures, proposals, etc.
From this view, you can also see the recently opened documents within your Google account and filter them by ownership i.e. 'Owned by anyone', 'Owned by me', and 'Not owned by me'.
This list of recently opened documents dates back to the previous 30 days. You can toggle the View button

 to change between the List and Grid views and even see the 'Last opened by me' date against each doc. You can sort this list based on your preference as well, using the Sort button

.
Click on 'Template gallery' on the top right side of your screen, to view a larger list of templates to choose from. You can also go to File > New > Document or File > New > From template gallery, to do the same, from within an existing Google Doc.
It's kind of fun that Google is going back to having this toolbar. Keep in mind, they consider these to be the most popular buttons because you'll be clicking on them the most.
Above that, you have the drop-down menus. These are really retro. When you click on these, you'll see that there are different options.
The insert menu is where you can bring in images, tables, charts, watermarks, etc.
Format is all about basic formatting but does include some important options like bringing in headers and footers and also updating your page orientation and paragraph spacing.
The tools menu is going to give you spellcheck, word count, and even a translation tool.
The Extensions or add-ons, are about bringing other applications into Google Docs from the Google Workspace Marketplace.

In the top right-hand corner, you're going to see that you have an option to actually collapse the toolbar so that you don't see the menus that are up above.
3. How to Save a Google Doc
To save a Google Doc, all you need to do, is give the doc a name. It is going to be saved to your Google Drive by default because everything saves in the cloud.

If any changes are made while you are connected to the internet, you will see the 'Saving' icon which indicates that the doc is being updated and saved in real time. When you are working in offline mode, the changes you make will be synced immediately after you get a stable internet connection.
4. How to Download a Google Doc
Open the document you wish to download.

Click on File, in the top left corner. A drop-down menu will appear.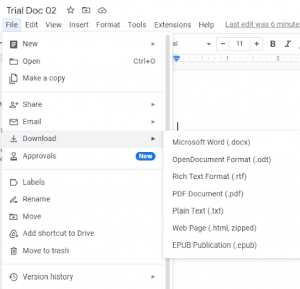 Navigate to

Download

. A sub-menu with a list of available document file types will appear.

Select the file type you prefer to download.
5. How to Share a Google Doc
Google Docs is one of the handiest online tools because the platform makes it easy to collaborate on projects and share them with coworkers or classmates. Once a Google Doc has been shared by its creator, multiple people can work simultaneously, allowing for real-time additions, edits, and updates.
You can share a Google Doc via email or using a shareable link, and adjust everyone's editing permissions on the document — here's how.
Sharing via Email
Open your document and click the blue Share button in the top-right corner.
In the pop-up, under Share with people and groups, you can type in the email addresses of everyone you'd like to send your doc to. If someone is part of your organization, you can just type in their name and their email address will auto-populate.
Click the Editor drop-down and select Viewer, Commenter, or Editor. If you want each person to be individually notified, click the checkbox next to Notify people, type in a message if you want, and hit Send.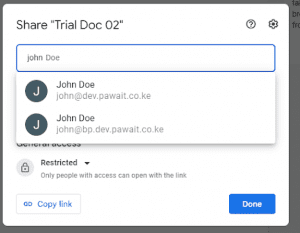 Using a Shareable Link
If you don't want to share the doc via email, you can also copy and paste a URL link. Click Copy link at the bottom of the pop-up window. The box will expand to show a link and editing permissions — make sure you grant access as necessary.
Once you've changed your permissions, click Copy link to copy it to your clipboard. Then paste the link in a text, email, messaging app, or another platform to share your file. 
You can also use the General Access setting to control who has access to your doc. Restrict access to specific people, and open up access to anyone within your organization or to anyone with the link.
6. How to Add and Reply to Comments
In this section, you'll learn how to create and reply to comments, tag collaborators, and more.
Creating a new comment
Anyone with an editor or commenter access to the Google Doc can create a comment.
There are several ways to add a comment, but the easiest way is to select the text that you want to comment on, then click the button that appears on the right side of the screen.

The comment box opens, and you can type your message.
If you want to make sure that a specific person sees your comment, you can tag them. To tag someone, type the @ symbol and start typing their email address. Then select them from your list of contacts
Tip :If you tag someone who doesn't already have access to the document, Google will ask you to share the document with them before posting your comment.
When you tag someone, you have the option to assign the comment to them. Assigning a comment to someone means that they will be responsible for marking it as complete.
When you're finished typing your comment, click Comment.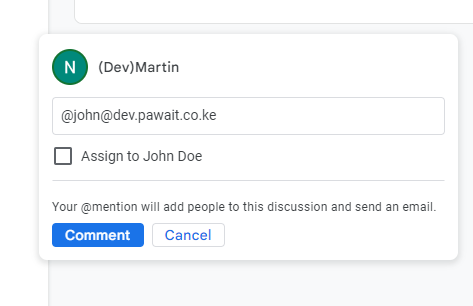 Replying to comments
Once a comment is added, anyone with commenter or editor access to the document will be able to see it and leave a response. 
To reply to a comment, click it to select it.
Then, type your reply. When you're done, click Reply.
NB: If you made a mistake while typing a comment, you can click the three dots in the top-right corner to either Edit or Delete your comment. Note that deleting a comment this way is permanent.
If you click the three dots next to the first comment in a thread, you have the option to link to this comment.
A dialog box opens that lets you copy the link so that you can share it with someone else. This is useful in long documents with lots of comments, as the link points directly to the relevant part of the document and even opens the comment thread.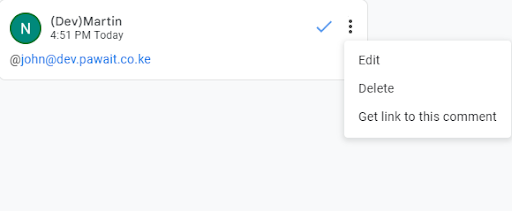 Comment History on Google Docs Editor
When you or your co-authors resolve the issue being discussed, click the checkmark to close the discussion. 
The comment will disappear, but you can continue to access it in the Comment History. You can open the Comment History by clicking the comment icon next to the share button in the top-right corner.

Tip : You can also change your email notification settings from within the Comment History window. Click Notifications at the top of the window, then make your selection. By default, document owners receive notifications for every comment, but everyone else only receives notifications when they are mentioned directly.
7. How to Track Changes in Google Docs Editor using the 'Suggesting' tool
Open

Google Docs

.

Find a document that you have editing or commenting permission on.

On the top menu bar to the far right, you will see a pencil icon. Click on it.

In the drop-down menu, select "

Suggesting

."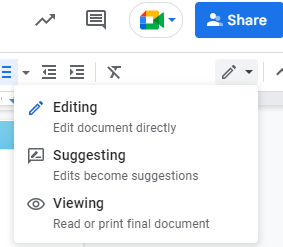 The icon will change to green when you are in "

Suggesting

" mode.

While using the Google Docs "Suggesting" feature, all edited text will appear in green and pop-ups will appear in the margins listing every suggestion you make.

You can accept the changes by clicking on the check mark, or reject the suggestion by clicking the "x" icon.

You can also do this by highlighting the section you wish to make a suggestion on and clicking on the green icon to the right.

8. How to Enable Offline Editing in Google Docs Editor
If you aren't connected to the Internet, you can still view and edit docs.
Before you turn on offline access:
You must be connected to the internet.

You must use either Google Chrome or Microsoft Edge.

Don't use private browsing.

Make sure you have enough available space on your device to save your files.

Go to

Google Drive settings

.

Check the box next to "

Create, open, and edit your recent Google Docs, Sheets, and Slides files on this device while offline

."

Right-click the Google Docs file you want to save offline and Turn on "

Available offline

."

On a Google Doc, go to

File

and select '

Make Available offline

' from the drop-down menu that appears.
9. How to Submit a Google Doc for Approval
If you may ever need to submit a document you created to one of your colleagues for approval, say a customer's project proposal, you can do this in Google Docs and even lock it before you send it over.
Go to

File

.

Navigate down to

Approvals

on the drop-down menu that appears.

Click on

Make a request

.

Check the available boxes to set your preferred settings and enter your approver's email address.
Click Send request.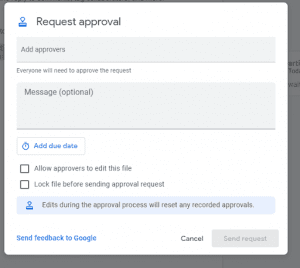 Google Docs, especially when used together with all the other collaboration tools within Google Workspace, can be really nifty and cool and new features are regularly released to help you get your work done, smarter and easier than ever before.