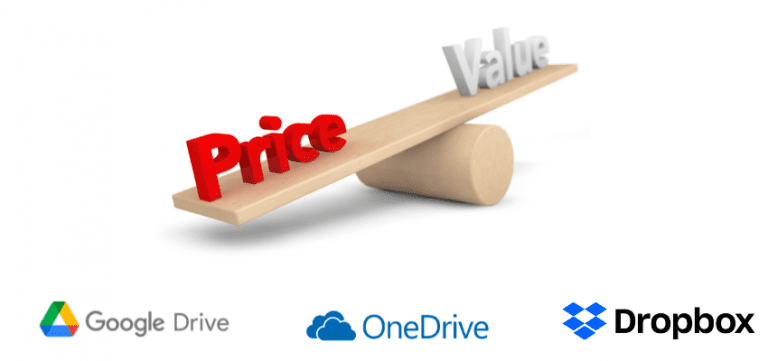 When it comes to Cloud storage services, there are a plethora of service applications you could choose from including Google Drive, Dropbox, OneDrive, Amazon Drive, Mega, pCloud, Box, Autosync, Tresorit, etc. You could use various metrics, the key ones being uptime, speed of file download, emphasis on file encryption, and storage plans. In this article, I will zero in on the pricing factor. Let's be honest; the cost of storage service is top of mind when it comes to choosing one that best suits your needs. Let's dive in, shall we?
For this article, I shall compare Google Drive with the other two storage giants; Dropbox and Microsoft OneDrive, in terms of free storage as well as paid storage plans. 
Google Drive vs Dropbox vs OneDrive Free Storage Plans
There isn't a lot of free cloud storage space available from Dropbox and OneDrive. While OneDrive only offers 5GB, Dropbox only offers a pitiful 2GB. Both programs have comparable limitations on the capabilities available to free users. 
OneDrive's free edition only allows you to store three files in your "personal vault" and has restricted sharing options (I'll look at these features in more detail later). Similar to Google Drive, a free Dropbox account does not grant access to the Dropbox Vault or sophisticated sharing options. Dropbox also retains a 30-day version history of your files, but you are unable to utilize the full "account rewind" feature for free.
With a generous 15GB of free storage, Google Drive places first out of our three competitors in our list of the best free cloud storage services. The free version of Google Drive has no restrictions, unlike the other two cloud storage services, and it surpasses both OneDrive and Dropbox in terms of total available storage space.
Google Drive vs Dropbox vs OneDrive Paid Storage Plans
Things become trickier in the paid tiers. In this comparison, Google Drive is the least expensive cloud storage choice, while OneDrive is in the middle of the pack. Dropbox is by far the most expensive option. We'll compare prices after the discounts are applied because each of the three cloud storage options offers a discount for a yearly subscription.
Google Drive is a cloud storage and file-sharing service provided by Google as part of its Google Workspace productivity suite. It allows users to store, share, and collaborate on files such as documents, spreadsheets, and presentations. Google Drive is integrated with other Google services, such as Google Docs, Sheets, and Slides, so users can access and edit their files from anywhere with an internet connection. Google Workspace is a subscription-based service that provides access to a range of productivity and collaboration tools, including Gmail, Google Calendar, and Google Meet, as well as Google Drive. 
Given that Google Drive has the most affordable file storage of the bunch, choosing between Dropbox and Google Drive is easy. Additionally, Google's document editors are completely free to use, in contrast to Microsoft's Office. With Google Drive being a core solution of Google Workspace, you get your money's worth as it incorporates other services directly from the storage service itself, making it a premier productivity and collaboration product. It is a win-win situation for your organization.
Getting a Google One plan is the easiest method to enhance your personal Google Drive storage. This enables you to access some odd products, such as discounted hotel stays, and to share your account with up to five additional users. A 100GB Google Drive storage upgrade costs about $1.67 per month, a 200GB upgrade costs about $2.45 per month, and a 2TB upgrade costs about $8.33 per month.
You can upgrade your Google account by purchasing a Google Workspace plan to share with colleagues for a more collaborative experience. For $12 per month per person with Google Workspace, you can obtain 2TB of Google Drive storage. However, you can get a custom Enterprise plan by contacting Google or increasing your storage to 5TB per user for $18 per month per user.
*Note: Google Drive comes as part of Google Workspace
Plan
Storage Amount
Pricing (user/month)
Business Family
Business Starter
30 GB
$6
Business Standard
2 TB
$12
Business Plus
5 TB
$18
Enterprise Family
Enterprise Starter
1 TB pooled storage
$10
Enterprise Standard
As much storage as you need
$20
Enterprise Plus
As much storage as you need
$30
According to the OneDrive storage plans, you can access other Microsoft programs and get cheap cloud storage, although the maximum capacity is only 1 TB. There is only one OneDrive membership plan, which offers 100GB for just $1.99 per month but excludes access to Office applications. You must purchase a Microsoft 365 plan to receive more storage than that.
Microsoft 365 offers a personal and a family plan, similar to Dropbox. The 1TB storage space included in the Personal plan's $5.83 monthly price also includes access to Microsoft Office. Each user of the Family plan gets 1TB of OneDrive storage and full access to the Office suite for about $8.33 per month, which covers up to six users.
Two corporate options are available on Microsoft's OneDrive, however, they are separate from Microsoft 365 and do not include any supplemental apps. The Microsoft 365 Business Basic subscription, which costs only $5 per user and includes useful programs like Microsoft Teams and SharePoint in addition to the necessary Office apps, is significantly more appealing. It also provides 1TB of OneDrive file storage for each user.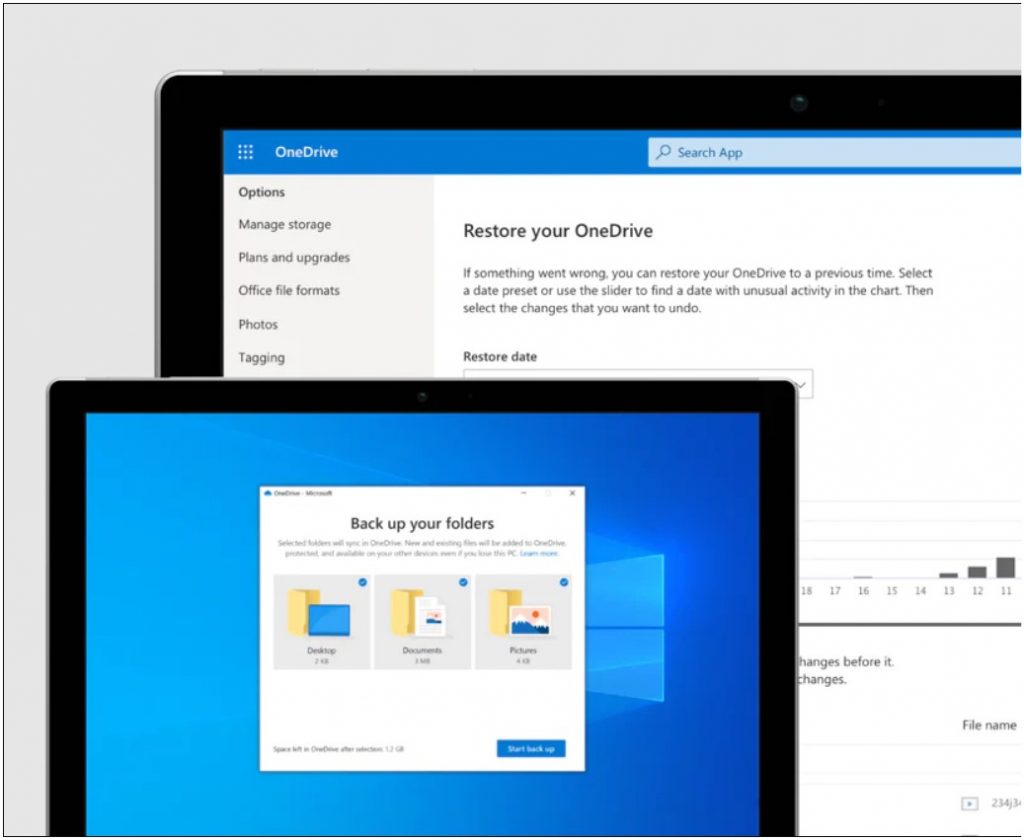 Plan
Storage Amount
Pricing (user/month)
OneDrive for Business
Plan 1
1 TB
$5
Plan 2
Unlimited
$10
Microsoft 365 Business
Basic
1 TB
$6
Standard
1 TB
$6
The Dropbox Plus plan is the sole personal option offered by Dropbox. For 2TB of cloud storage space and all the extras not included in the free plan, it costs $9.99 a month. There is also the shared Family plan, which offers 2TB of shared file storage for $16.99 per month. With this plan, you can add up to six users and receive a shared "family room" for files that are accessed by both parties.
Since the business plans are intended for businesses and, well, business customers, I won't delve too deeply into how they are priced. Only Dropbox's Professional plan, which offers 3TB of storage for $16.58 per month, is suitable for a single user. The additional corporate plans include comprehensive user administration tools and up to 5TB of cloud storage, but they are not appropriate for personal usage.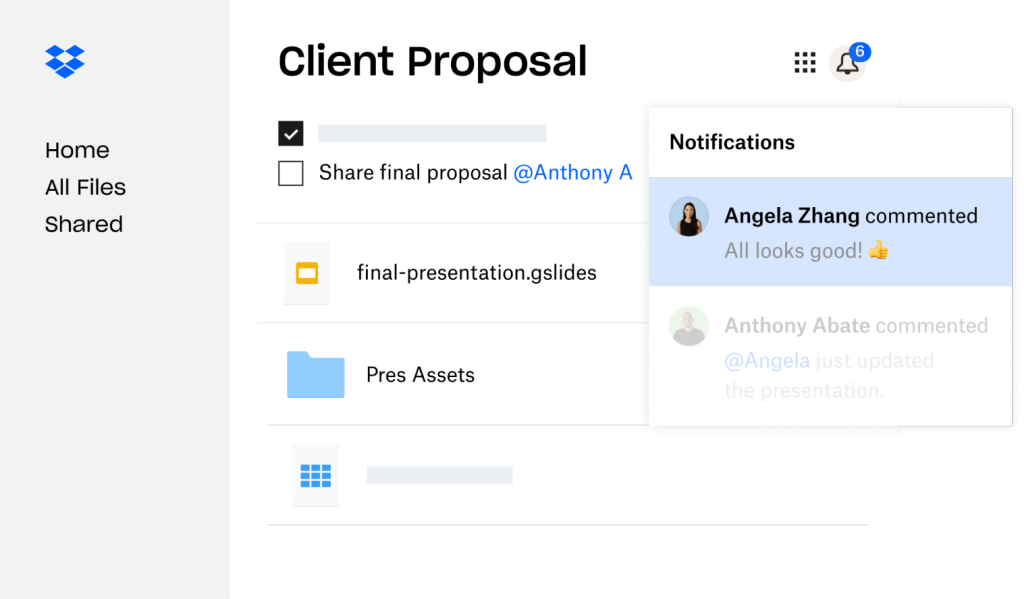 There is also a Dropbox Enterprise plan, but you'll need to get a quote from Dropbox since this is a customizable option for big businesses. If you intend to use Dropbox for business purposes, it might be worthwhile to do so since it offers excellent enterprise cloud storage.
| Plan | Storage Amount | Pricing (user/month) |
| --- | --- | --- |
| Professional | 3 TB | $19.99 |
| Standard | 5 TB | $18.00 |
| Advanced | As much space as you need | $30.00 |
| Professional + eSign | 3 TB | $31.99 |
| Standard + DocSign | 5 TB | $83.00 |
| Enterprise | As much space as you need | Contact sales for pricing |
Conclusion
Taking everything into account, there are various Cloud storage services that offer a variety of storage options. When considering storage services for your business or even personal storage, you can choose the storage plan best suited for you or your organization depending on your storage needs and the allocated storage budget. Google Drive offers more storage compatibility options at a fair price compared to Dropbox.