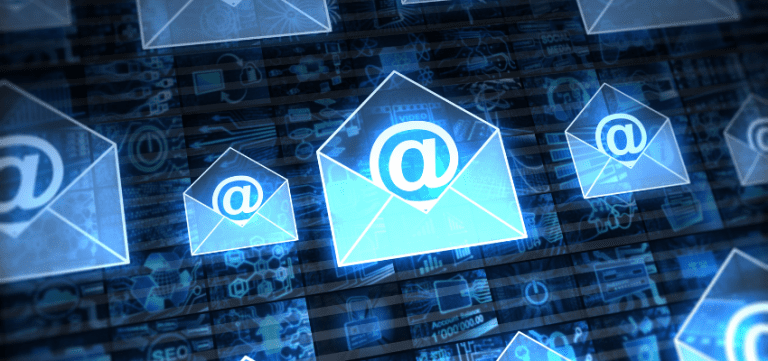 The digital world has made communication easier with email replacing traditional mailing services that had dominated the world for the past four centuries. The advent of email services in the last two decades of the 20th century resulted in the reduced use of postal services and the transition to online email services. Some early notable online mailing services include the 1979 Email program, Lotus in 1989, Outlook in 1993, Hotmail in 1996, Yahoo in 1997, and Gmail in 2004. The rise and popularity of email services have dominated the communication space with approximately 4.4 billion email addresses created and close to 205 billion emails sent each day as of 2015 (The Guardian 2016 on Email Technology). 
The business world is one of the biggest beneficiaries of email technology especially when it comes to making one's business professional and having a wider market reach. A professional email is one that makes an organization appeal to its customers and builds on brand awareness, customer trust, and confidence. However, businesses may struggle to find the right emailing solution and provider who will help professionalize their company and ensure they compete with top-tier firms in their industry. To start with, a professional company email comes at a cost regardless of the provider you choose whether Google, Microsoft, Zoho, or other C-panel providers. In this case, it is important to understand the email hosting process and why choosing a provider such as Google would make the process secure, fast, and easy compared to Microsoft, Zoho, or other legacy platforms.
Email hosting
Email hosting is a service that allows individuals or organizations to send and receive email using their own domain name, rather than a domain provided by a free email service like Gmail or Yahoo. With email hosting, the provider sets up and maintains a mail server and provides clients with a private and secure email account that they can access using an email client or webmail interface. Email hosting is often provided as part of a broader web hosting package, which may also include other services such as website hosting, domain registration, and data storage. Some email hosting providers offer additional features like spam filtering, virus protection, and calendar and contact management tools.
Steps In Setting Up Email Hosting
Business email setup is done through a four-step process that is a well-defined, swift, and safe process to understand. The steps of setting up the email address include
1. Choose an email hosting provider
There are many email hosting providers to choose from, each with different features, pricing plans, and terms of service. Consider factors like the number of email accounts you need, the size of your email storage, the type of email client you prefer, and any additional features you may need.
2. Account Creation and the SetUp Platform
The first step of the process is to choose a suitable plan for the business, register one's account, and go through the setup wizard. Once the account is registered, the next step involves providing some basic details such as the name of the business, the number of users, and the country.  After that is done, one enters the contact information of the company. Notably, one can use the email they set up through their domain host or a personal email address. Equally, one has to indicate whether the company has a domain or not, as the domain name will be used to create the account.More so, if the company does not have a domain, it can buy one through platforms such as GoDaddy, NameCheap, or IONOS. Once the domain is confirmed for the business and the company agrees to set up the account using the domain, they will be requested to provide a secondary recovery email address where one can enter their personal email account. The last step of the process will be to enter their username and password. By default, the username is the business email address ([email protected]). Once that is done, they agree to the terms and conditions and finish creating the account.
3. Verification of the Domain Name
It is important for companies to verify their domain ownership regardless of the email provider they are using. The process of verification is done by adding TXT records. To get the TXT records, one should navigate to the domain registrar where one purchased the domain and find the DNS settings. The DNS settings equally vary depending on where one bought the domain. After adding the DNS settings with TXT records the verification process starts. It is important to note that the verification process can take up to 10 minutes before  moving to the next step. Notably, Google has more security features that not only require verification of TXT records but also MX records which allows Google to handle email for the new domain name. Once all the TXT and MX records are added one can finish the verification and set up the account via Google.
Key Factors to Consider When Choosing a Domain (Registration and Name)
It is important to break down domain registration and name for companies to understand why they need to have the right domain for their business. Six notable factors need to be understood by a new company that seeks to get a domain that they will ultimately use for their email and increase their visibility among clients and service providers. The factors include
Choosing a Top Level  Domain Extension (com, .org, and .net)

Strategic integration of keywords that are relevant to the business website

A domain name that is easy to pronounce and spell

A short and precise domain name

A unique and flexible domain name

Safeguard the domain by using multiple TLDs such as .com or .africa

 
4. Account Management
In the final step of setting up the business address is account management. One can decide to control their  account through their admin console or center. The company can add or remove users or manage existing applications. Through account management, it is easy for the organization to ensure they can manage all their email services under one endpoint.
Gmail Business Account Creation
It is quick and simple to set up Gmail for business email. Begin by creating a Google Workspace account, then follow the prompts to connect your domain name, create a user name, and enter your payment information. Alternatively, you can work with a certified Google Cloud partner like Pawa IT Solutions who will create your Gmail for business account for you, manage it for you and offer additional partner services.  
1. Go to the Google Workspace website (https://www.google.com/workspace/).
2. Click on the "Get Started" button.

3. Enter your business name and the number of employees or users you'd like to sign up for Gmail for business and select the Region. Click on "Next"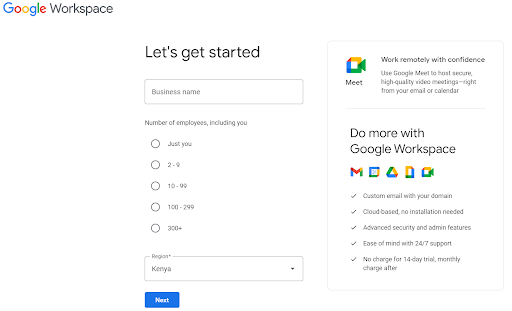 4. Provide your contact information, that is, your name, and current email address. Since you are creating the account, you will be the admin for the account. An admin is a person who manages the business's Google Workspace account. Admins can add and remove users, reset passwords, pay bills, and more. You can always assign the admin role to someone else later.
5. Provide the domain name you want to use for your email addresses. If you don't have a domain name, you can purchase one through Google Workspace or through a reputable domain registrar like Pawa IT Solutions.
6. Create your user account by inputting details like your username and password. An email username, also known as an email handle or email alias, is part of an email address that comes before the at symbol (@). It identifies the owner of the email account and distinguishes it from other accounts on the same email server. For example, in the email address [email protected], "john.smith" is the email username. You'll use your username to sign into your Google Workspace account and create your business email address. Input your business domain and create your account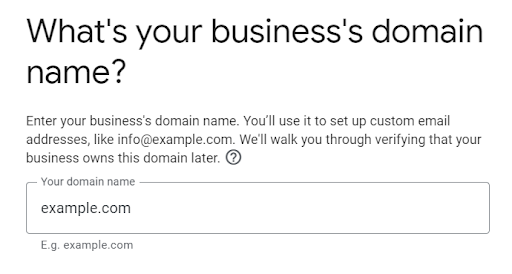 7. Input your payment information and complete the account setup. Google provides a free trial, so you will not be billed during this period, but you still need to add payment information. You can get more discounts based on the number of users by working with a Google Cloud partner like Pawa IT Solutions. The plan is set to Business Standard by default but you can select the Google Workspace plan that best fits your business needs.
8. Click "Next" and complete the checkout process to start using Gmail for business email.
Once you have set up a Gmail for the Business email account, there are a few additional steps you may want to consider to get the most out of your account and optimize it for your business needs. Here are a few suggestions:
Customize your email signature: You can create a customized professional email signature that includes your name, title, company name, and contact information. This can be added automatically to the end of every email you send, helping you to promote your business and make it easier for people to get in touch with you.
Set up email aliases: You can create additional email addresses (also known as aliases) that all forward to your primary email account. This can be useful if you want to create different email addresses for different purposes (e.g. [email protected], [email protected]), or if you want to create separate email addresses for different employees.

Configure email filters: You can set up email filters to automatically sort your incoming emails based on specific criteria (e.g. sender, subject, keywords). This can help you to organize your email inbox and prioritize important messages.

Use Google Calendar and Google Drive: As part of Google Workspace, you can access Google Calendar and Google Drive for scheduling, file storage, and collaboration. You can use these tools to schedule appointments, share files, and collaborate with your team.

Integrate with other business tools: You can use Google Workspace integrations to connect your Gmail for Business account with other business tools, such as Slack, customer relationship management (CRM) systems, project management software, and online payment platforms.
That's it! With these steps, you should be able to set up a Gmail for Business account and start using it for your business email communication or you can simply contact us and let us do it for you at no added cost as you enjoy our additional partner services!