Enterprises often use a myriad of collaborative tools so as to complement Google Workspace and define workflows that are better handled by specialized third-party applications (depending on who you ask). If you are one of these companies, you are probably not aware of Google Forms.

Google Forms is a free online tool that allows you to create forms and analyze submissions right in your mobile or web browser—no special software required. It's part of Google Workspace's web-based apps suite, including Google Docs, Google Sheets, Google Slides, and more. It's a versatile tool that can be used for easy survey administration, creation and grading of quizzes, easy analysis of collected data, among other benefits. You'll need a Google account to create a Google Form, but you can adjust the settings so that anyone can fill it out, meaning no Google account is required to submit the form.
Slack on the other hand is a loved workplace communication tool. If you haven't had a chance to interact with Slack at your workplace, think of instant messaging system with lots of add-ons for other third-party tools such as Drive, Hubspot, GitHub and yes, you guessed it, Google Forms. This messaging system uses channels (essentially a group chat), and direct message or DM (Direct Message: person-to-person chat) for communication.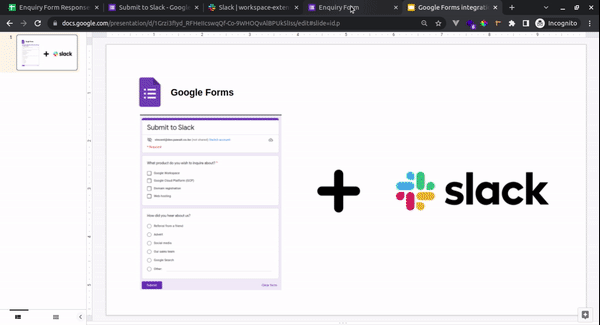 So what's the craze about Google Forms submissions to Slack? Fortunately, our form-to-slack integration combines Slack seamlessly with Google Forms therefore making the most of both applications. Imagine this scenario: your company is in the tech or eCommerce industry. They regularly get feedback from clients through form submissions. The beauty about your company is that they have integrated its Google Form submissions to Slack. Each time a customer sends in their feedback or request through Google Forms, your representatives get an immediate notification via Slack giving them a chance to quickly respond to customers within the timeline period set in the service-level agreement.
So how exactly does this workflow automation help? The script based solution that integrates Google Forms and Slack by enabling the form submissions to be posted in Slack channels. This reduces the need to switch between applications and also delivers information within your typical Slack workflows (to the right channel/the right team). The right channel, customer service, for example can then respond to customer queries or feedback within appropriate timelines resulting in customer satisfaction.
To learn more about how you can do this for your team for free, contact us: https://forms.gle/Df8nG5GFx12Zz6Aq6