M-Pawa Graduate Trainee Program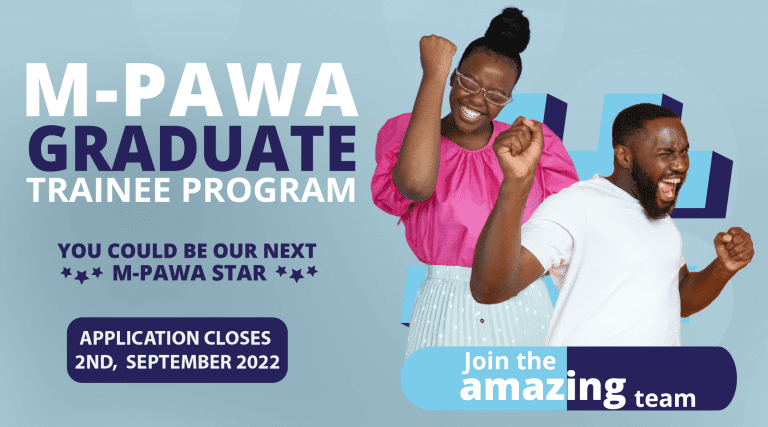 About the Role
We are looking for 3 Graduate trainees to work with our cloud and engineering team in both customer support facing situations and building simple yet important technical web-based solutions. 
Key Tasks and Role
Act as the first point of contact for all user support issues.
Triage incoming support issues, investigate solutions, or escalate according to agreed service levels
Collaborate with colleagues and clients to achieve issue resolution
Maintain an appropriate level of product knowledge through continuing learning
Collaborate with the cloud team to continuously update training resources. 
Identify areas and opportunities for end-user training and capacity building.
Assist the Cloud Engineers in deployment projects and user training activities.
Work with both customers and cloud engineers to scope and build simple web-based technical solutions using Google App Scripts; PHP/Python/Java or any language one is familiar with.
Knowledge & Experience
Must have a good understanding of web tech stacks: HTML/CSS and frameworks: bootstrap/Django/ etc.
Must have fair exposure or use with JavaScript/Java/Python/
Strong communication and interpersonal skills
Strong decision-making skills
Desire to learn about new and existing technologies
Excellent customer service skills
Strong initiative, attention to detail, sense of urgency, work ethic, and follow-through skills
Excellent organizational skills with the ability to manage time and multiple priorities to completion.
Education & Professional Qualification
Should have completed all course work for their Bachelor's Degree in Computer Science, Technology/IT related field
Should NOT have graduated more than 1 year ago.
Strong ability to multitask and meet objectives with minimal supervision.
Keen to work or has previously worked in a supportive environment is a great plus
Familiarity with Public Cloud solutions and tools; Google Cloud, Azure, AWS, Digital Ocean, etc. 
Application Method
Send your CV and Cover letter in PDF format to:[email protected]
Date: On or before September 2nd, 2022
Title your email as: Application for M-Pawa Cloud and Engineering Graduate Trainee_Pawa IT Ltd
Only successful applicants will be contacted