Google Meet has seen a lot of changes in the year 2021. Google's video conferencing software now has several new capabilities. This includes improvements to the platform's aesthetics as well as functional changes that made it easier to use. Let's take a closer look at what was featured in this year's Google meet updates.
Aesthetic improvements: New immersive backgrounds and styles for Google Meet on the web.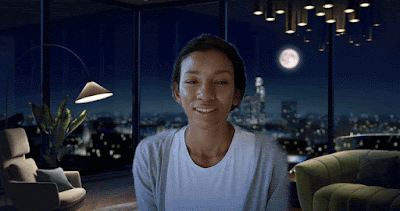 Google Meet's backdrops functionality has been improved to enable users to hide any distracting background elements while improving visibility. Additionally, you may now add light and color effects to your video to further personalize it.
Users can add these new backdrops and styles before joining a call or through the new effects options window, which is illustrated above. In September of this year, the settings panel was created, allowing users to simply add background effects and images.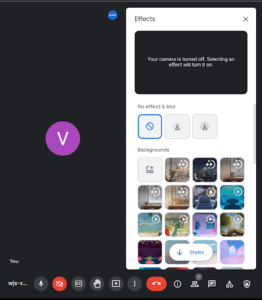 Functional improvements
Increased cost control over participants' audio and video feed.
This was introduced on 21st October 2021. This new feature enables Google Meet hosts to use the audio-video lock to turn off microphones and cameras of the meeting participants. It also prevents them from turning them back on until you decide to unlock them.
This can be done both in the main and breakout rooms. This will help users have a frictionless meeting devoid of interruptions. Earlier in February, Google also introduced a feature that enabled a host to automatically mute everyone at once on google meet.
This new feature builds on that update by also preventing participants from being able to unmute themselves after they have been muted.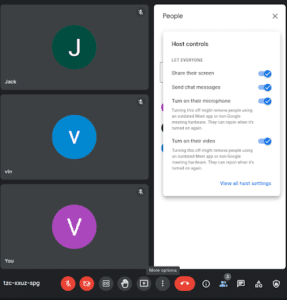 Hosting Google Meet meetings with up to 500 participants
On 16th November 2021, Google announced that users on the Google Workspace Business Plus, Enterprise Standard, Enterprise Plus, and Education Plus customers will now be able to host meetings in Google meet with up to 500 participants. This further lets your organization connect and collaborate with more colleagues, customers, and clients than before. If you are on a plan that is excluded above, contact us for an upgrade to a higher plan that will suit your needs.
Hand raising to Google Meet.
One of the most essential yet overlooked features was finally brought into Google Meet: hand-raising. This enables more organized meetings and ensures disciplined participation. This can be accessed by clicking on the hand icon on the bottom menu to either raise or drop your hand.

When other participants raise a hand, participants and moderators in the room will see a notification as well as a badge on their video tile.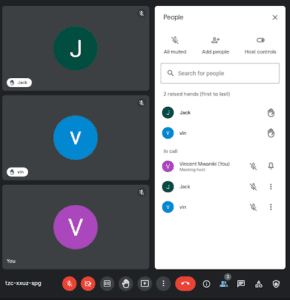 Presenting from Google Docs, Sheets, and Slides directly to Google Meet
On 18th May 2021, Google announced that they had integrated Google Meet into docs, sheets, and slides thus making collaboration a flexible, interactive, and intelligent experience. You can now directly present the content in sheets, docs, or slides directly to an active Google Meet call. This further reduces the need to switch between apps. To do this you simply need to:
Go to Google Meet.

Join a meeting.

Open a file in Docs, Sheets, or Slides.

In the top menu area, click Present to a meeting.

Choose your meeting (or enter a meeting code).

Select the preview of the tab to confirm and start sharing. 

Back in Meet, view your presented content directly in the meeting.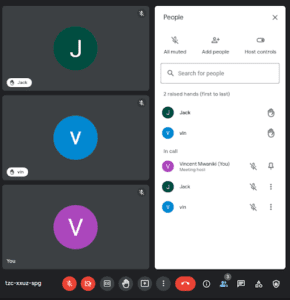 Coming soon:
This year Google also announced lots of features that are in beta and may be unveiled in the coming year. These include:
This will add a layer of security on top of your meeting by the use of advanced cryptographic standards. This entails giving customers direct control of encryption keys and the identity provider used to access those keys. Client-side encryption will mean that your data will be indecipherable, even to Google. You can learn more about this here.
Live translated captions in Google Meet are available in beta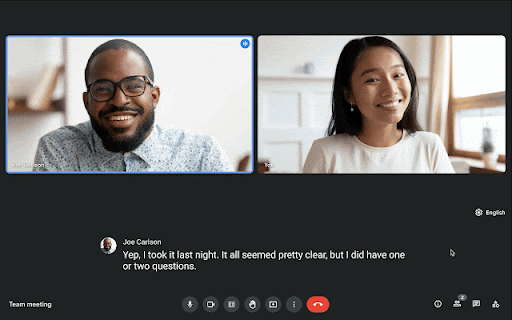 With Google Meet, captions enable us to follow through a Google Meet event with ease. Google has taken this a step further by translating captions that are currently available in beta. This feature is aimed at helping meeting participants communicate effectively with each other despite speaking in different languages. This feature works by translating the speaker's spoken language into a different language of your choice and displaying it as captions simultaneously. This could be particularly useful for meetings and training programs with globally distributed teams, ensuring every employee understands and is not disadvantaged due to language barriers.
We hope this game-changing feature gets released and becomes generally available, as it will be an enabling tool for many users.