Maximize business potential with Gmail for Business - all you'll ever need.
Register your .co.ke domain and get a professional email address with Gmail for Business
Get a professional Gmail account with Docs, Sheets, Google Calendar, Meet & 30GB of storage.
Secure email & web hosting with 99.99% uptime.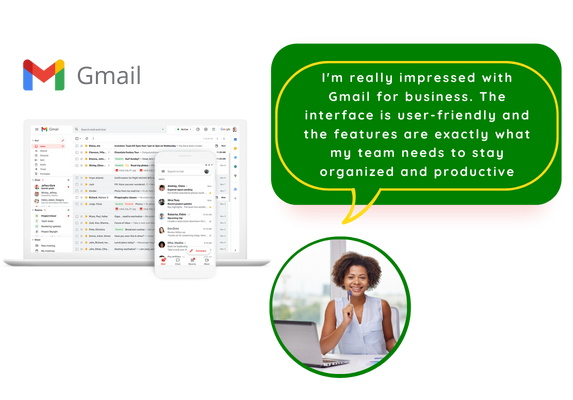 Simplify Your Business Communication with Gmail
Team collaboration in real-time with a Gmail professional account.
Remote working capabilities for Gmail users with access to emails and files from anywhere, on any device.
A subscription-based cloud service means businesses only pay for what they use.
Security features to protect business data including email encryption, two-step verification, and threat protection.
Different storage options from 30GB per user to unlimited storage, and file sharing of all file types – PDF, Microsoft files – via Google Drive.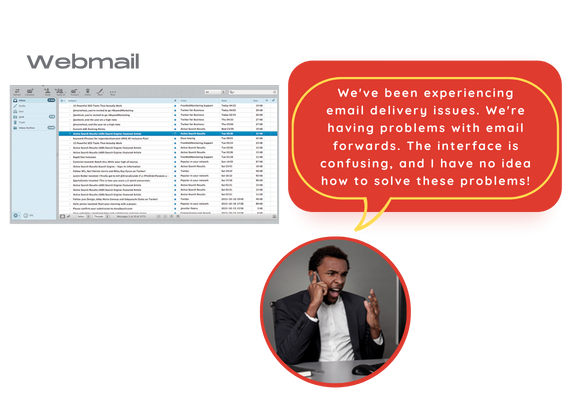 Webmail makes it difficult to get things done in time…
No provision of in-built collaboration features.
Employees cannot access their email and files from anywhere, on any device thus limiting remote working.
Investing and maintenance of on-premise servers, which certainly is expensive and complex.
There is no email or file data encryption, two-step verification, or advanced threat protection.
Limitations on the amount of storage and bandwidth available for file transfers and the type of files that can be stored.
Switch to Gmail for Business and Reap the Benefits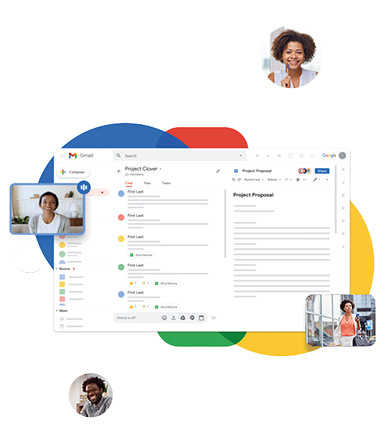 Gmail for business
Customize your business email with custom themes and logos to match your brand.
Access a range of document formats including Microsoft Office files,  and PDFs via a web interface.
Connect with colleagues via Google Meet and Google Chat, without ever leaving the Gmail interface.
Webmail
 Interface makes it difficult for users to personalize it to their specific needs.
May not support all document formats. Thus, the ability to preview or edit documents in-browser may be limited.
Further, you'll use separate applications to access video conferencing, instant messaging, and calendar features.
Seamless apps integrations and device flexibility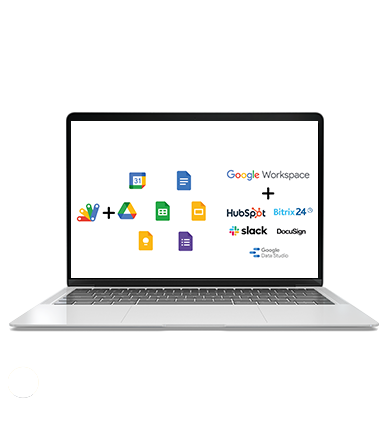 Gmail for business
Streamlined integration with Google Services and other apps such as Slack, and HubSpot due to the wide range of APIs.
Access to emails, chats, files via Google Drive, and video conferencing via Google Meet tools on a smartphone or tablet.
All data and files are accessible remotely with or without an internet connection.
Webmail
Complex, time-consuming process requiring custom development work and programming skills to connect the apps and automate tasks.
Users may need to use separate tools for creating and editing documents, spreadsheets & presentations. The interface isn't optimized for mobile.
Data and files can only be accessed over the internet. Instead, one has to download files to work remotely.
**G2 is an independent 3rd party company that applies a unique algorithm (v3.0) to this data to calculate the customer satisfaction and market presence scores in real-time.
Secure Business Data with Admin Controls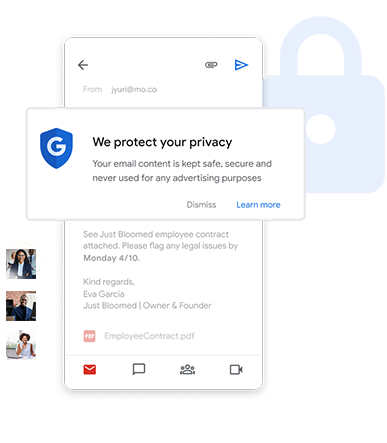 Gmail for business
Set permissions and access rights to view-only, edit, or comment for the person(s ) you share online files with.
Built-in protection against spam, phishing, and malware, with automatic updates to the security systems.
Compliance with various industry standards and regulations, such as ISO 27001, SOC 2, and the EU's General Data Protection Regulation (GDPR).
Webmail
Storing sensitive files on a server poses security risks because of inadequate encryption and security patches.
Email security is dependent on the email hosting provider. Even then, there is limited spam protection.
Compliance is determined by specific configurations and implementation methods employed by an email hosting provider or end user.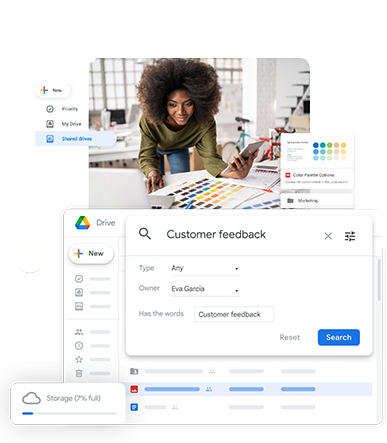 Gmail for business
30GB to unlimited cloud storage for all and the ability to store and access files from anywhere.
Various sharing options and permissions while sharing files with specific individuals, groups, or publicly.
Provides a range of security features to protect the confidentiality and integrity of data stored in Google Drive.
Webmail
Only provides a certain amount of storage space depending on the web hosting plan and server configuration.
You share files through file transfer protocol (FTP) or a web interface depending on the server configuration.
Basic security features, like password protection for the control panel and permissions for files & directories.
**G2 is an independent 3rd party company that applies a unique algorithm (v3.0) to this data to calculate the customer satisfaction and market presence scores in real-time.
Common questions about Gmail for business
We have compiled a list of frequently asked questions to help you better understand the features and benefits of using Gmail for your business. Whether you're a new user or a seasoned pro, this section provides valuable insights and tips to enhance your experience with Gmail for Business.
Client feedback on Gmail for Business
"The peace of mind that the security & reliability of Gmail brought to the ICT team is immeasurable. The Integrated Gmail has made the user experience great."
"We no longer receive spam emails and our emails and communication are now synchronized across different devices, this has increased productivity as we are able to work effectively across the different teams."
"I have never had peace of mind, as I have after we implemented G Suite. From all familiar Gmail to hangouts chats and real-time collaboration and ease of file sharing in Google Drive, our employees tell me how happy they are with G Suite. It makes me happy."
Claim your Gmail for Business Discount
Schedule a demo with one of our Google Workspace experts and claim your discount price NOW!!